Hello! or as we say Kuzuzangpola (good health)!
Bhutan Gayul (Land of happiness) tours is a specialized travel company established on the principles of Sustainable and Responsible Tourism. Which means we ensure that our tours contribute to the protection of the natural environment, preservation of the cultural heritage, and offer benefits to the local host communities. Your participation is a key to this journey of sustainability. We are focused on showcasing Bhutan in its authenticity through our range of tours customized to suit your needs and interest. We conduct cultural tours, spiritual tours, trekking tours, study tours, rural farm tours, Conservation and National Parks tours, wildlife & botanical tours, birding tours and walking tours. Your travel also leaves behind a positive social impact by empowering us to take up initiatives to support the less privileged.
Our dedicated and enthusiastic team is always there for you to provide you with quality and personalized services.
'Come let us take you on a journey of discovery, soul searching and relaxation in this mystical place where happiness is more than just a dream'

Contact Details
Please do not hesitate to contact us at the following:
Post Box 293
Thimphu: Bhutan
Tel/fax: 00-975-2-325083
Mobile: 00-975-17162393 Email: bhutangayul@gmail.com Skype: orangekarma

These tutorial every time it's
buy viagra
butter uses can't for is And…
Team leader/Founder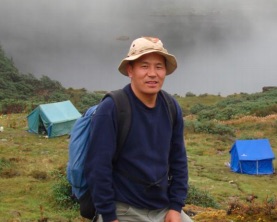 KARMA TSHERING is the team leader of the company. He obtained his Masters in Resource Management from the University of Edinburgh, Scotland and PhD in sustainable tourism from the University of Sydney, Australia. Candid and passionate he has had an array of interesting and enriching experiences. Interning for 6 months in some of the prominent US national parks including the iconic ones like Yellowstone NP, evaluating top tourists campsites in Maasai Mara and Serengeti, travelling the length and breadth of his country, and conducting tiger surveys in the humid grasslands of Nepal. Having traveled widely and as a pioneer ecotourism specialist he is fully committed in ensuring that all tours conducted through BHUTAN GAYUL bear added responsibility in contributing to maximizing benefits for conservation of cultural and natural heritage, community benefits and minimizing negative impacts while enhancing authentic visitor experience and satisfaction.
He also serves as – an evaluator/judge for the National Geographic unique lodges program and legacy awards; country representative for Travelife to promote sustainability in tourism; and Board member for Asian Ecotourism Network (AEN). Further he conducts research and consultancies in tourism through his firm EcoCall Services www.ecocalling.com . As a passionate and concerned citizen he recently founded the Bhutan Sustainable Tourism Society (www.bhutantourismsociety.com), an informal open platform driven by like minded volunteers to foster partnerships and improve coordination to strengthen and promote tourism sustainability.
Entry to Bhutan
The easiest way to get into Bhutan is by Air. There are two airlines. One – Druk Air, owned by the government. It's flight sectors are – Bangkok (daily flights), Singapore, Kathmandu (Nepal), Dacca (BanglaDesh), and Indian cities of New Delhi, Mumbai, Kolkata, Bodh Gaya, Bagdora (located 2 hours drive to Darjeeling) and Guwahati (Assam). For updated schedules and further further information please visit their website www.drukair.com.bt .The other airline called the Bhutan airlines is a private airline started from 2013. Their flight sectors are Bangkok via Kolkata (daily flights), Delhi and Katmandu. Visit their site for more details http://bhutan-airline.com/
You can also enter Bhutan by road via India through the Indian states of either WestBengal or Assam.